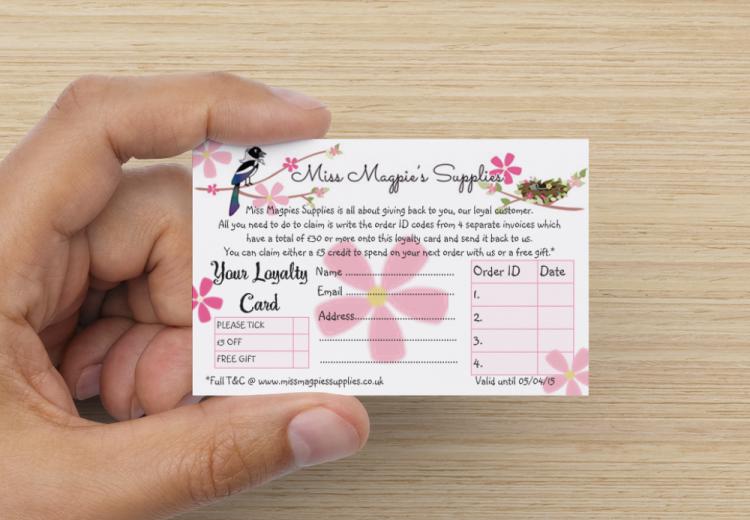 The loyalty card scheme is one of our special offers that we have created for our customers to benefit from.
For every 4 orders that you place and to which you each spend £30 or more on, you will earn credit or a free gift.
You can claim these at anytime before the expiry date once you have placed your 4 seperate orders from us.
So how does the loyalty card scheme work and what do i need to do?
Firstly you will need to apply for a loyalty card ...
To apply simply place a order through our website (The scheme is for website orders only, Preorders or paypal invoices do not count)
When placing your order in the notes section BEFORE you checkout please type the following ...
...' SEND ME A LOYALTY CARD PLEASE '
We will then post your loyalty card with your order, but to qualify you must spend £30 or more in order to apply for a card.
What you need to do next to claim ...
Simply place 4 orders in total within 12 months on our website over 4 seperate occassions and save each invoice in which we send to you with your orders. Orders that are placed on the same day (For example combined orders or simply orders with the same date) do not apply as they count as 1 order.
Each order must be to the value of £30 or more which is excluding any postage costs
...dont forget if you spend £30 or more you also get free postage...
...by placing a order of £30 or more you benefit from free postage plus a chance to get money back or a free gift by using this loyalty card scheme...
On each order there is a unique order ID code, this can be found at the top of your invoice above your delivery address and date you placed the order (which you will also need)
Each code is 7 digits long.
Once you have found all 4 of your codes and dates and each of the 4 orders are over £30 in value then you can fill out your loyalty card, all fields must be filled in and completed to qualitfy for your claim.
The following MUST be completed in order to qualify for your credit or free gift
Name
Email Address
Postal Address
You may use the back of the cards to write any info that will not fit on the cards it self, but all info must be included within the card to qualify for the offer.
(We use your email address and postal address for 2 reasons 1. To match you to your orders when we check each claim and 2. To send you your code/credit through to your email address or to post your gift by post to you)
Next...
The left hand side box must then be ticked .. you can only tick 1 either the £5 credit for your next order or the free gift.
(if both boxes are ticked or if none of the boxes have been ticked then we will simply credit you the amount of £5 to your email address)
Then...
You will need to fill out the right hand side box with you 4 codes and there matching dates in which they were ordered (Dates are found under the order ID)
Finally...
Once the card is all filled out then you simply post it back to us (postage costs are payable by you) our address can be found at bottom of all your invoices.
If you have any messages for us you can include these on the back of the loyalty card.
Once we receive your card...
We will check the order ID codes to ensure they are all corect and that you qualify for your chosen item.
Don't forget to fill in all areas of the loyaly card correctly, it maybe handy to include a telephone number on back incase we need to contact you for any reson.
After we receive your card...
You should receive your code/gift within 15 days of you posting it to us,.
If for any reason you havn't received your code or gift, please contact us immediately and dont forget to check your junk folder or spam folder in your email account just encase its there.
what can I claim with my loyalty card??
you have 2 choices to pick from
1. £5 Off or 2. A Free Gift
1. your £5 will be sent to you as a 1 off usuable code to the email address in which you placed on your loyalty card (please ensure all info is correct)
To use the code you simply place a order through our website as normal and at checkout you enter your £5 credit code which we sent to your email account, this will then take off £5 of your order or if you have sent us mulltiple loyalty cards then we will combine the amount and again send you a one of unique code for example if you send us 3 loyalty cards back and they all are complete and correct then we will add up all 3 £5 credits and send you a £15 one of credit code to use.
please note...
All codes have a expiry date, 1 year from it being activated.
You can only use 1 code per order so you cannot use multiple discounts so please check and use all discount codes carefully as we do not refund or credit any code that is unused or expires.
2. your free gift will be sent to you via 2nd class mail (postage is free and paid for by us) again please ensure all info is correct.
Gifts are picked to the value of the credit, 1 loyalty card = £5 worth of goods, majority of the time we will pick a product that is of slightly higher value around 5-20%
Can i save my loyalty cards and use them together ?
yes ... as long as all your loyalty cards are in date and filled in correctly then you may combine all loyalty cards for 1 unique credit code or gift to the value of the cards
you will need to fill each card as normal and send all cards in to us together.
Do loyalty cards EXPIRE?
NO, not anymore we have removed the expiry date requirements from the card itself.
Although some may still show a date or a line through it, please ignore this and continue using as normal.
Although the loyalty card itself does not expire the invoice numbers you use do.
All invoices used must be within12months of each other.
That means all 4 order ID's that are needed must be within 12months of each other.
FOR EXAMPLE...
First order id on card = April 5th 2015
The second, third and fourth order ID must be all dated before April 4th 2016.
Anything after April 5th 2016 will not be VALID on the card and the loyalty card VOID for use.
PLEASE NOTE: OUR TERMS FOR USE
All terms are subject to change and all loyalty cards remain the property of Miss Magpies Supplies at all times.
We reserve the right to refuse any loyalty card that we feel is being misused, not filled in correctly or are fake.
All customers must follow our terms that we have set here, by accepting our loyalty cards you agree to all terms & conditions and agree to follow them in order to claim your credit or prize.
LIMITS ON CODES PER ORDER
Only 1 code can be used per order this includes any special discount codes, credit codes or postage codes etc
so please pick which code you wish to you on your order as we can not refund or credit any new codes if they expire